Loose Leaf Tea Collection
Regular price
Sale price
$25.00 USD
Unit price
per
Sale
Sold out
Share
Nothing comforts you, energizes you, and helps you unwind quite like a nice, warm cup of tea.
Discover a soothing, delicious tea for every mood with our collection of 7 loose leaf teas. Our teas are carefully blended with natural herbs, tea leaves, fruits, and flagrant flowers to create a truly rejuvenating brew that's loaded with health benefits. With a curated selection of herbal tea blends, you'll always find the right kind of tea to indulge in whenever you want. The perfect way to treat yourself or surprise any tea lover. This loose leaf tea collection box also makes an excellent gift for any occasion.
Each tube will make 5-7, 8 ounce cups
Included in collection:
Night Shift (Chamomile, Organic Licorice Root, Organic Peppermint, Hibiscus, and Lavender)
Be Easy (Peppermint, Fennel, Orange Peel, Lemon Balm, Rose Petals, and Ginger) 
Cold Be Gone (Ginger, Elderflower, Peppermint, Rosehips and Yarrow)
Sun Raise (Red R

ooibus, Orange Peel, Organic Red Rasberry Leaf, and Hibiscus Flowers)

Glow (Roses, Lavender, Jasmine Flower, Rosehips and Calendula) *this brew can be used as a facial steam.  (Instructions : Boil water, add herbs, add essential oil (if desired). Carefully hold face over bowl with a towel draped over head. Steam face between 5-10 minutes, with face 6-12 inches away from steam. Please do not hold face closer than 6 inches.
Georgia Peach ( Organic Green Tea, Organic Peach Pieces, Ginger Root and Natural Fruit Flavoring)
Mango Blast ( Black Tea, Mallow Flowers, Marigolds, Mango and Fruit Flavoring)
1 Tea Spoon Diffuser 
Preparation: 
Water Temperature: 185*F-212*F
1 tablespoon per 8 ounces of water
Steep Time: 3-5 minutes, for a stronger brew, 5-7 minutes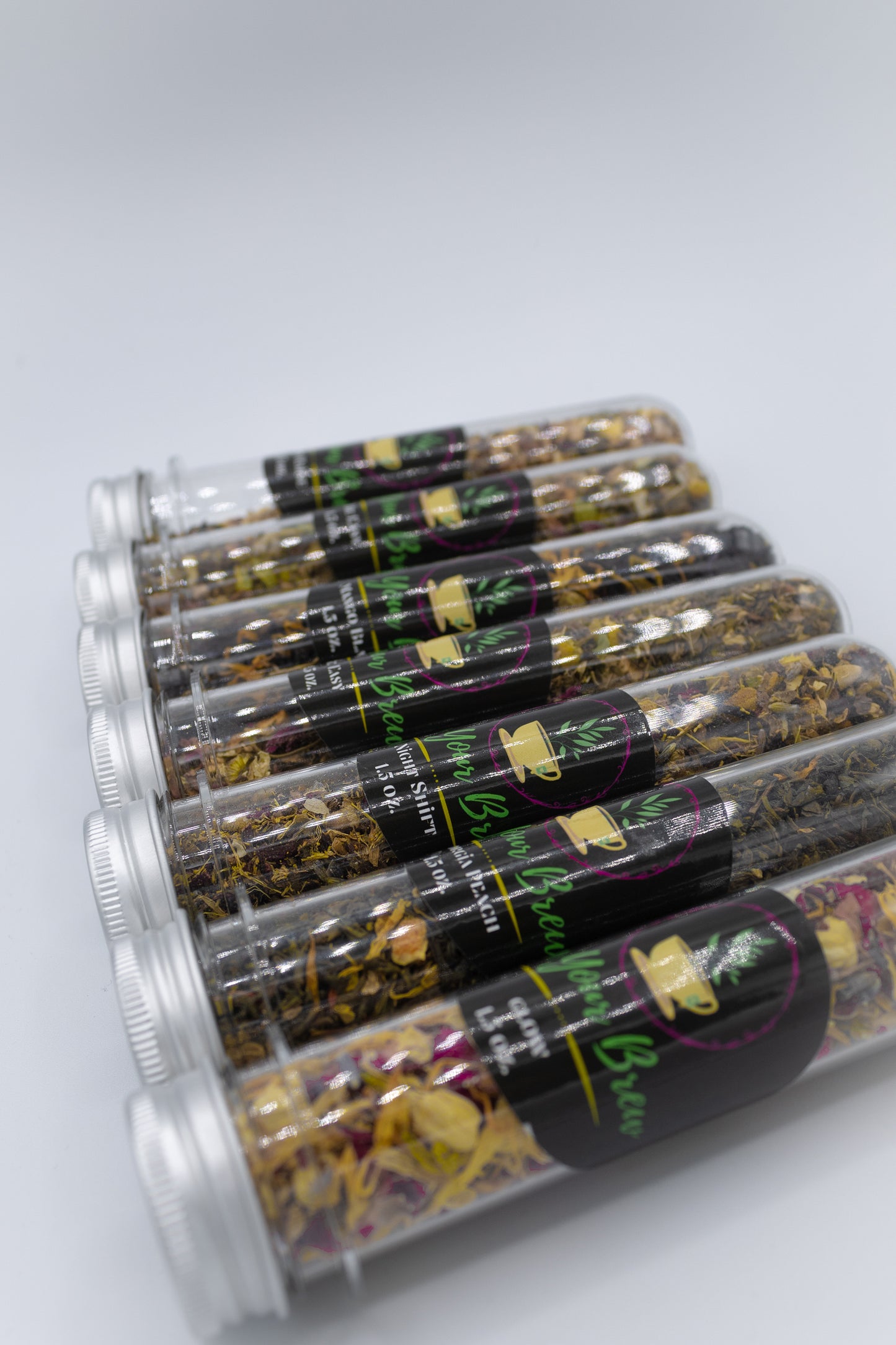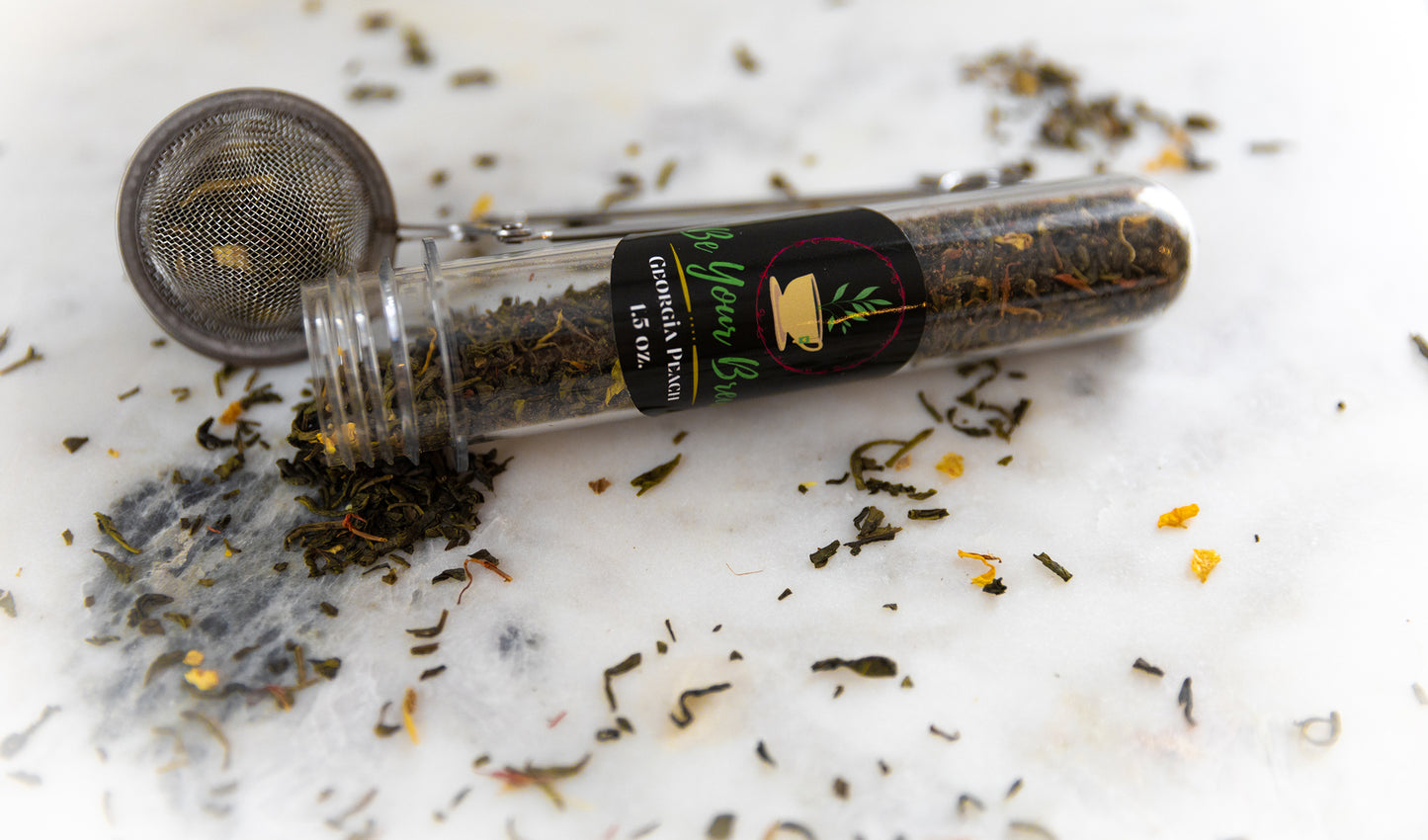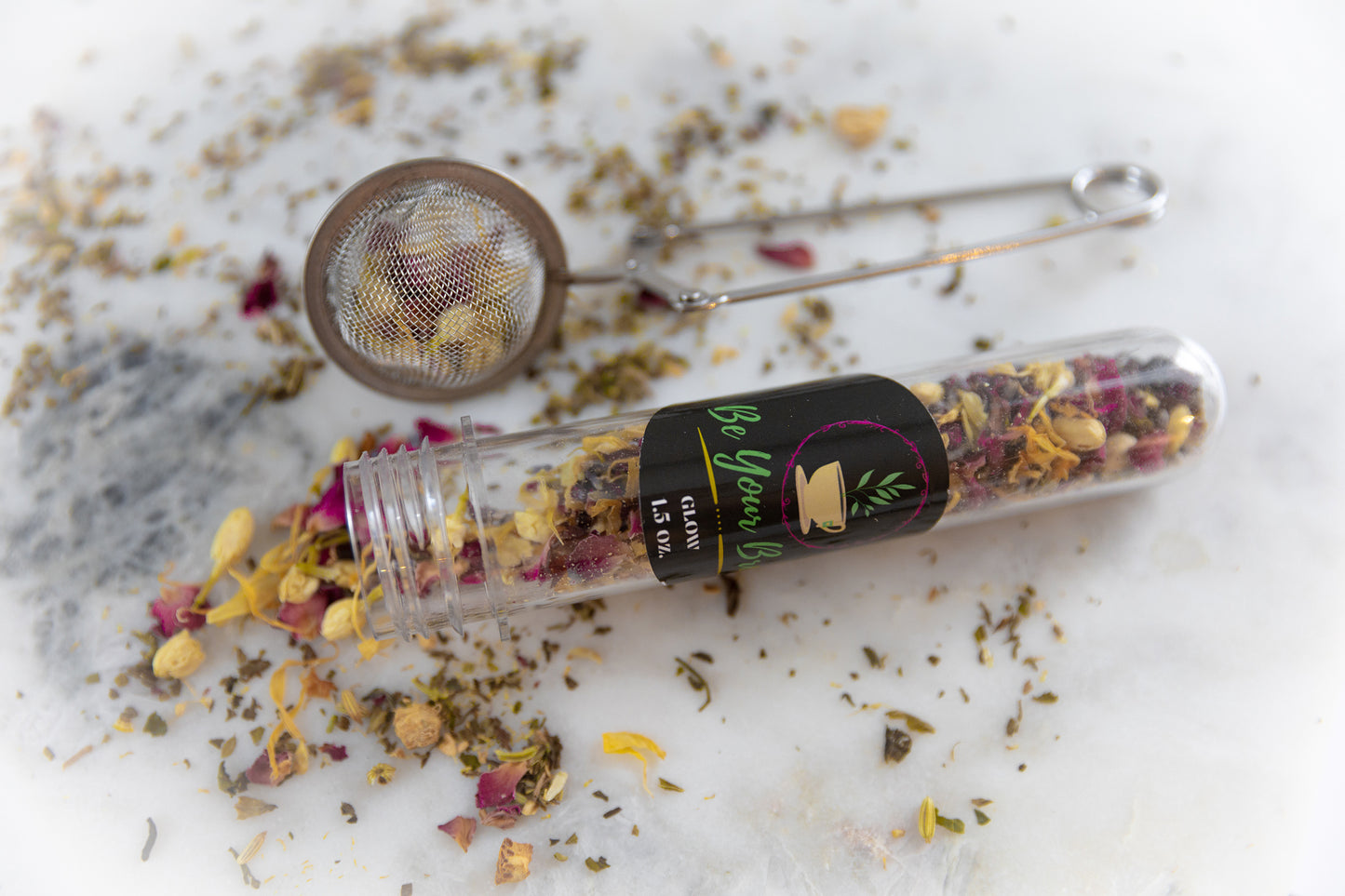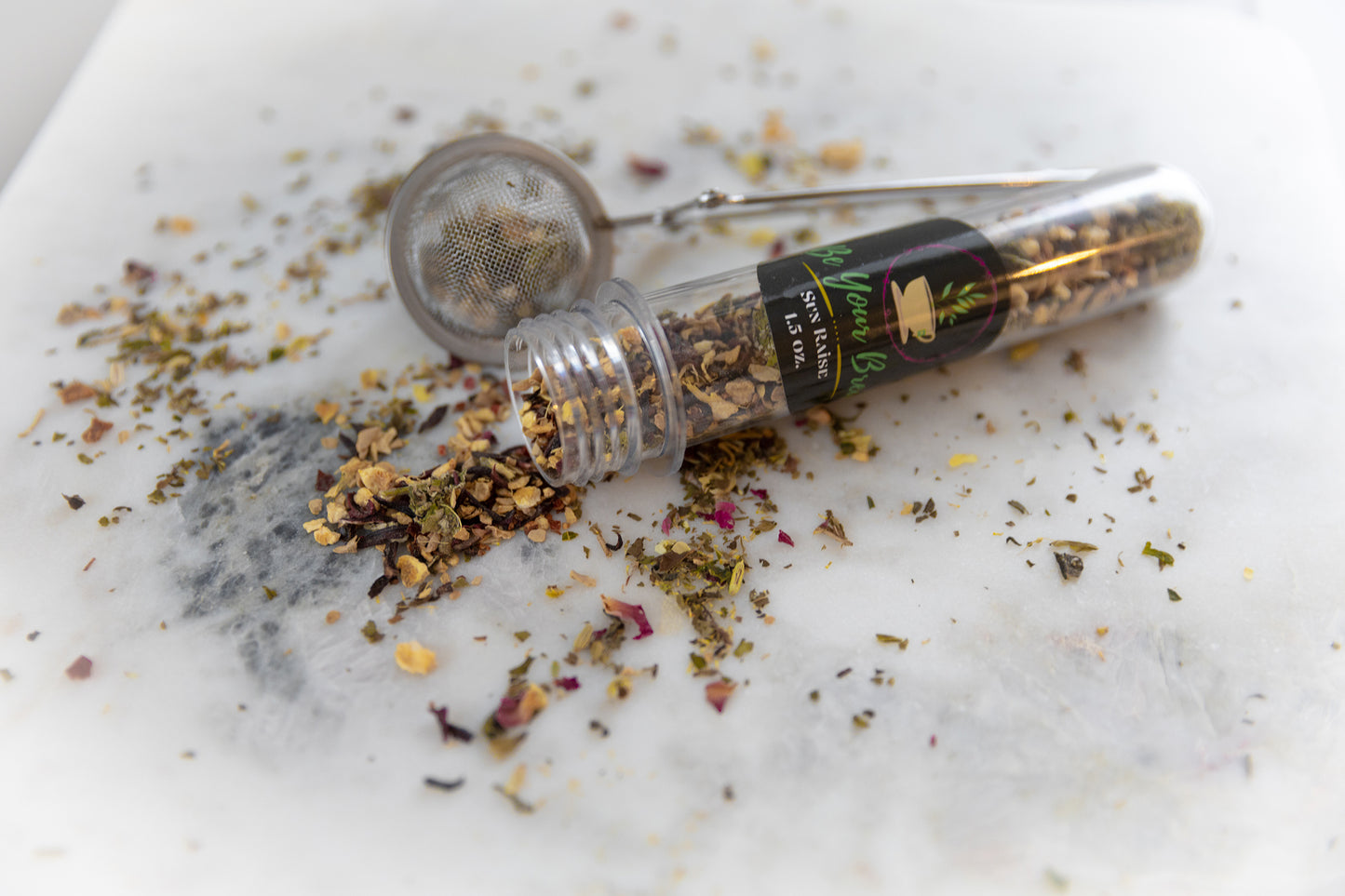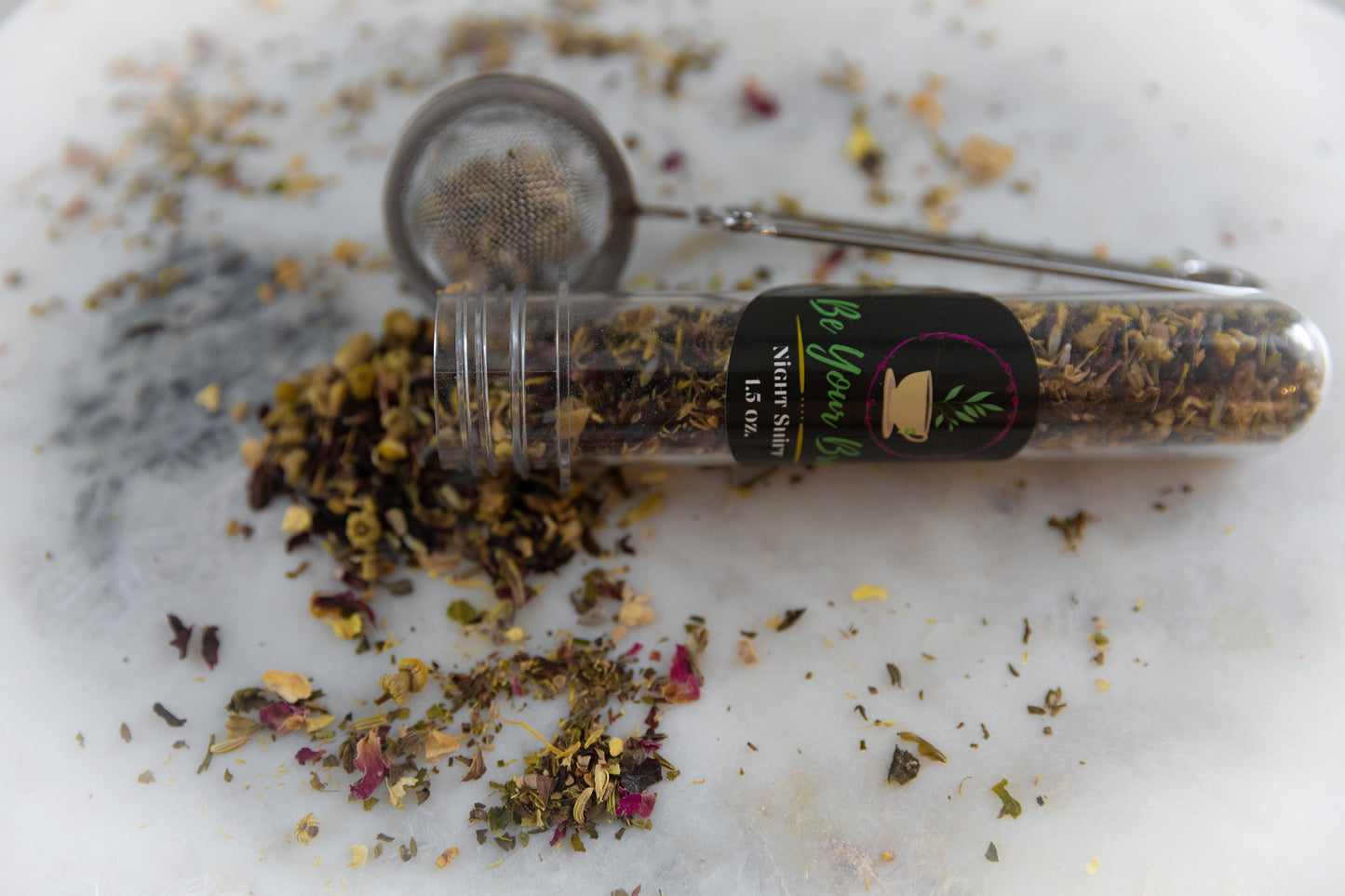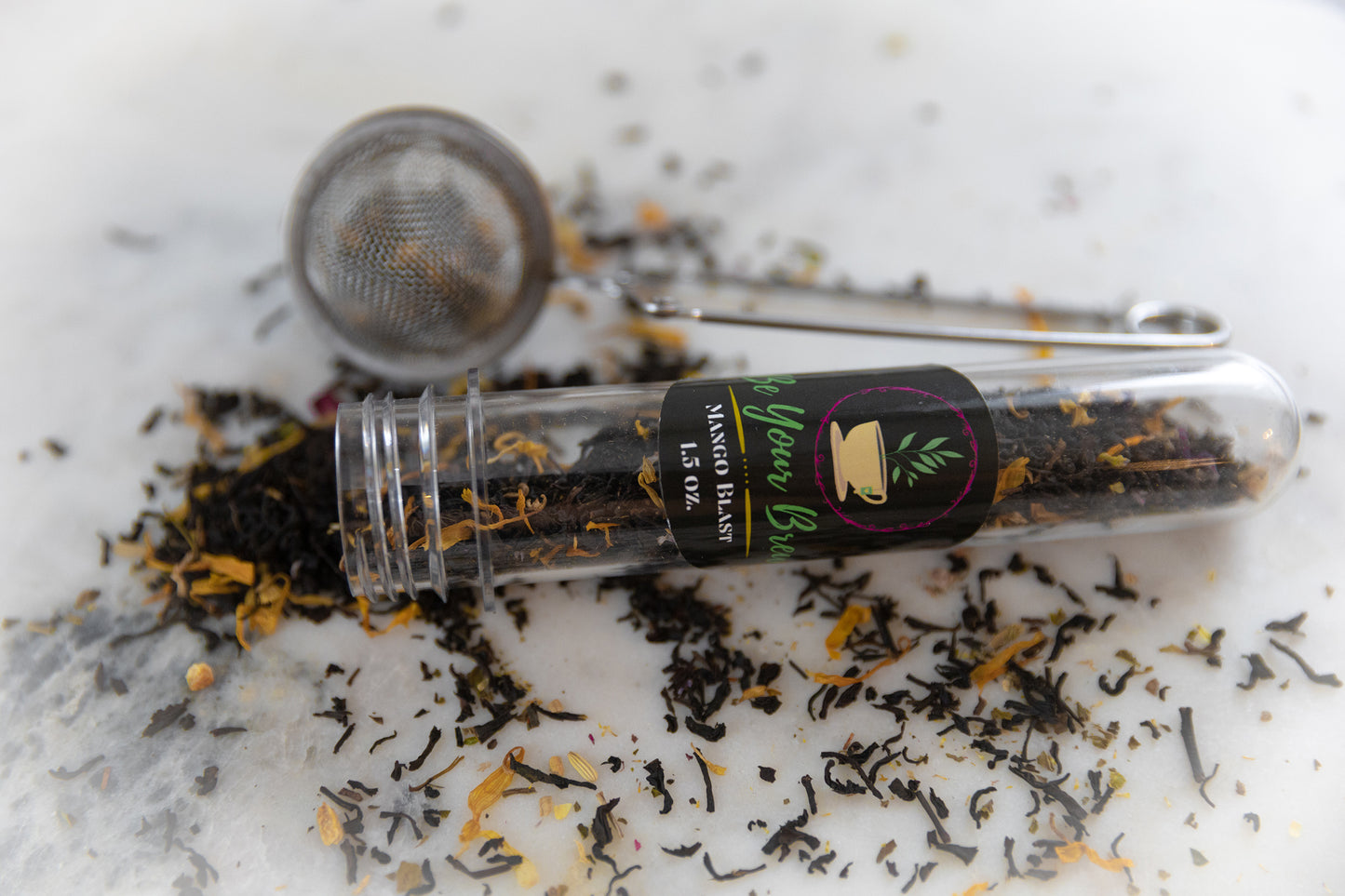 Shipping

Please allow 48 hours from purchase for your order to be processed. Items ship in 5-7 days once processed.

Returns

NO RETURNS due to the nature of the products. If any of your items are damaged, please contact us via email at info@beyourbrew.com.

Please contact us within 3 days of delivery. No replacements can be done after 3 days of delivery.